Large enterprise protection tactics for mid-market companies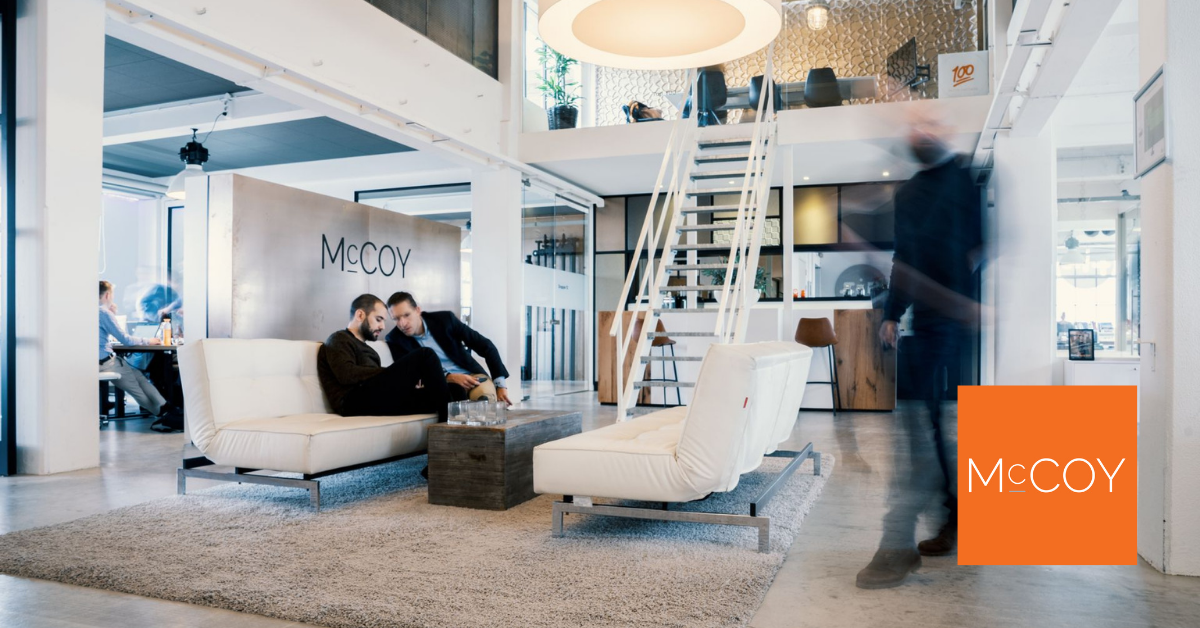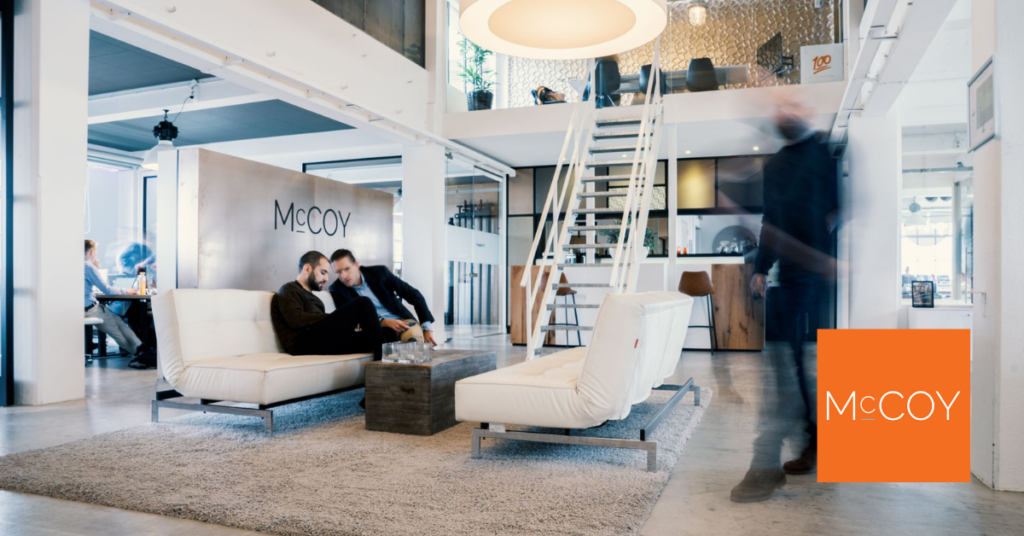 It's like a digital cardiac arrest for companies; cyberattacks. The Chamber of Commerce estimates that more than 290 cybersecurity attacks are launched each week on Dutch companies. And those are just the cases we hear about, with the ransomware attacks on VDL and MediaMarkt as the most recent and shocking examples. No wonder experts are urging large enterprises to put cybersecurity on top of their to-do lists and to discuss it in the boardroom. What about thousands of mid-market companies whose budgets can't cater for a cybersecurity solution, but who fall victim to these cyberattacks just as often? Well, enter the perks of the as-a-service-economy. These businesses now have access to cybersecurity-as-a-service.
Midsize companies profit from the as-a-service-model
The ransomware attack on VDL left the IT of no more than 105 of their subsidiaries paralyzed and forced the enterprise to shut down production for days. Since IT systems are at the core of almost every business process nowadays, the impact of the financial damage on an organization is considerable. Let alone the privacy risks it brings when a data breach is involved. Hackers' methodologies evolve by the day. Large corporations usually can afford to have a team and system in place to keep up with cyberthreats, but mid-market companies often lack expertise and funds for this. SAP software experts from McCoy in Eindhoven, Netherlands, and SecurityBridge, leader in SAP security, teamed up to offer midsize organizations the same kind of protection as enterprises – as a service.
First initiative in The Netherlands
Drawing from the knowledge and experience they've gathered in their efforts to protect larger companies, McCoy and SecurityBridge decided to make the advanced cybersecurity solutions of SecurityBridge available to mid-market businesses that use SAP.
Bas Gijsbers, Managed Services Consultant at McCoy: "Just open up any newspaper and you're bound to find an article on ransomware attacks. Critical company systems are attacked more often, and the impact of such threats gets bigger. Smaller companies can now profit from high-end protection in the form of a subscription model. Something that didn't exist in The Netherlands up until now. We've put together a service that protects companies against common attacks, and we can customize these services according to the specific needs of a company or industry. This way, we can minimize risks and – in case of an attack or breach – control the impact as well."
Protecting the SAP landscape
Eric Bigot, Security Consultant at McCoy says: "Our cybersecurity solution protects the SAP system of organizations, which forms the heart of the IT application landscape. SAP is critical for their daily operations and no matter the size: no organization can afford downtime because of a ransomware attack. The advanced technology of the SecurityBridge Platform, combined with McCoy's expertise in SAP and business processes, creates new opportunities for midsize companies. They now have access to high-end security solutions that were only available and affordable to large enterprises before."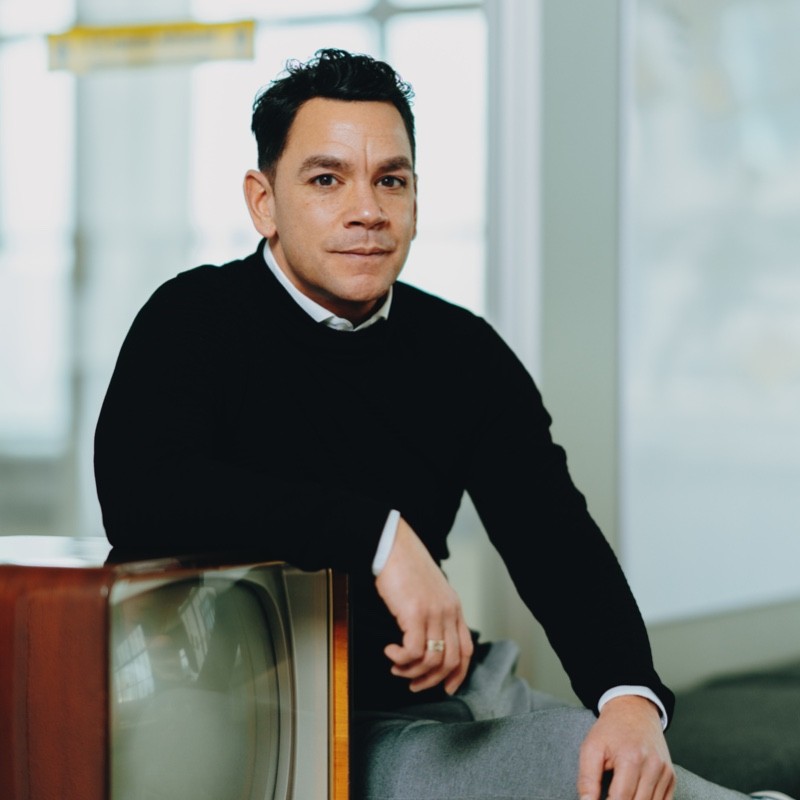 Security Consultant at McCoy
An unmatched level of security for smaller companies
"With this solution and subscription model, we can offer mid-market companies a level of cybersecurity, that they otherwise never would have access to. Teaming up with McCoy contributes to our ambition and strategy to help organizations – big or small – protect themselves against the increasing number of cyberattacks and the disastrous impact that comes with those," concludes Ivan Mans, CTO of SecurityBridge.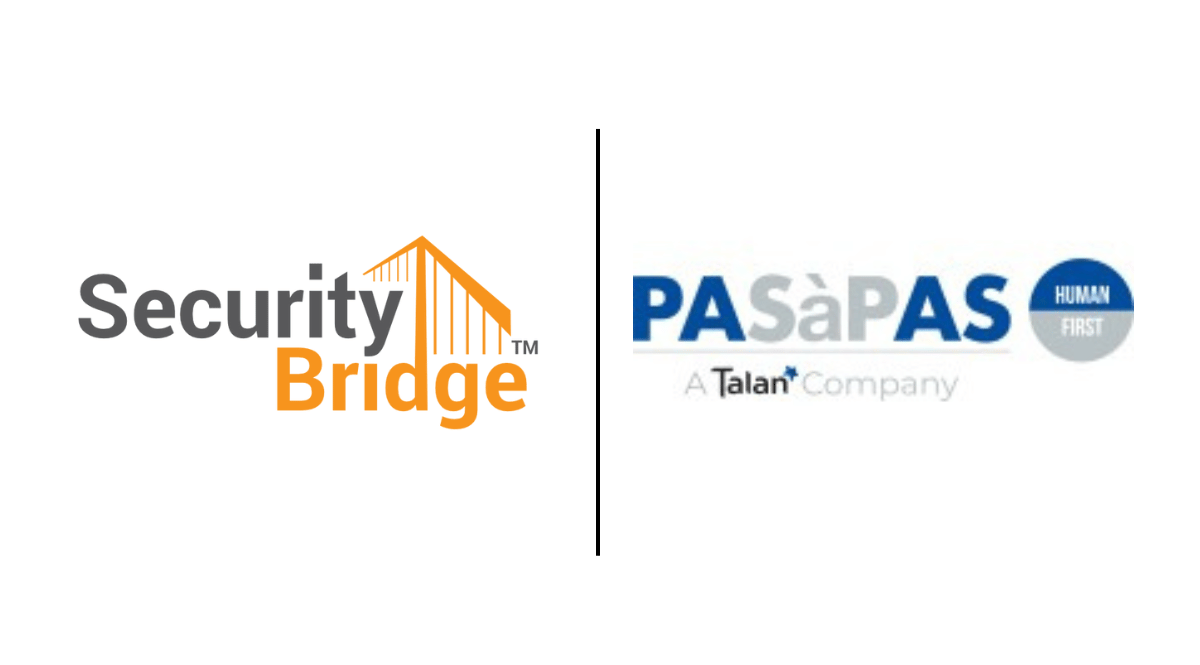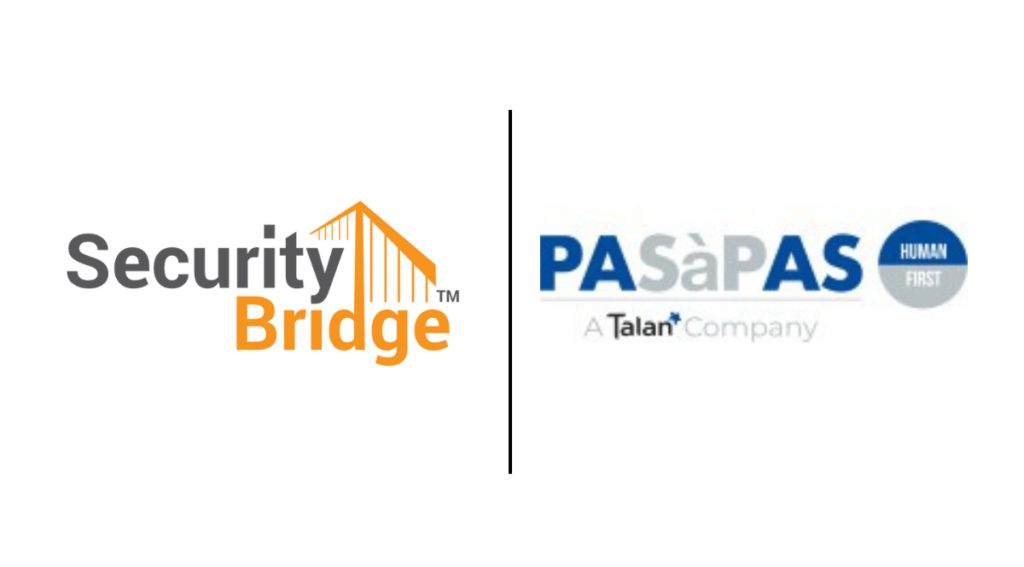 PASàPAS will continue to leverage and install the SecurityBridge platform for SAP to help more SME organizations understand and mitigate SAP Security risks.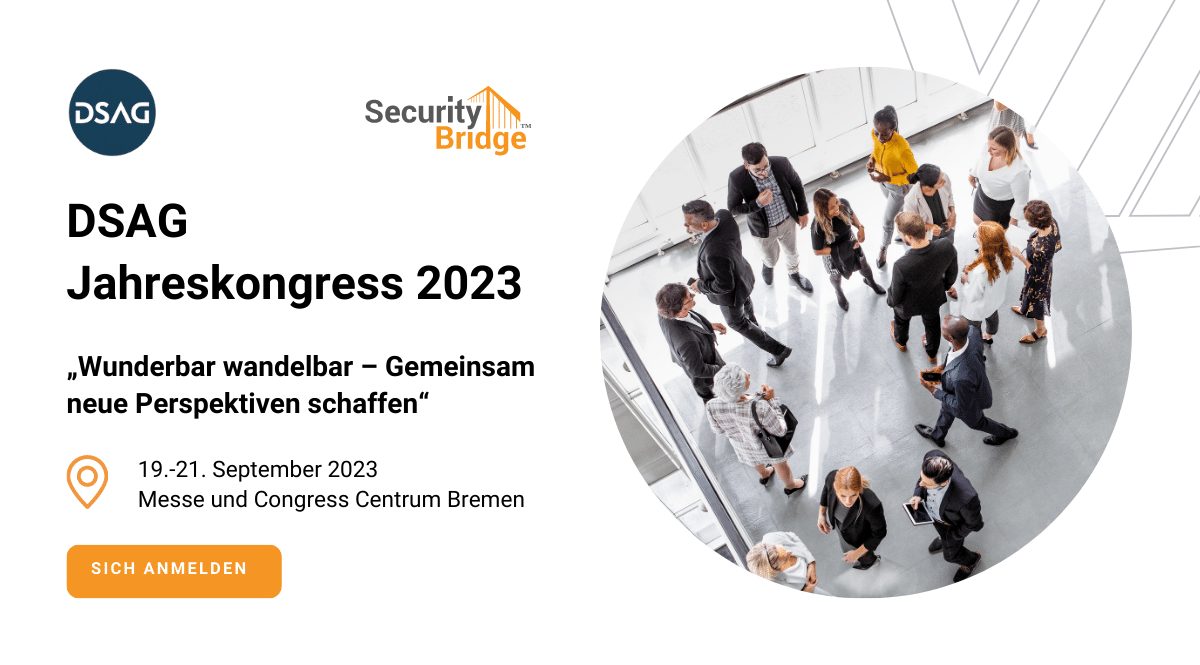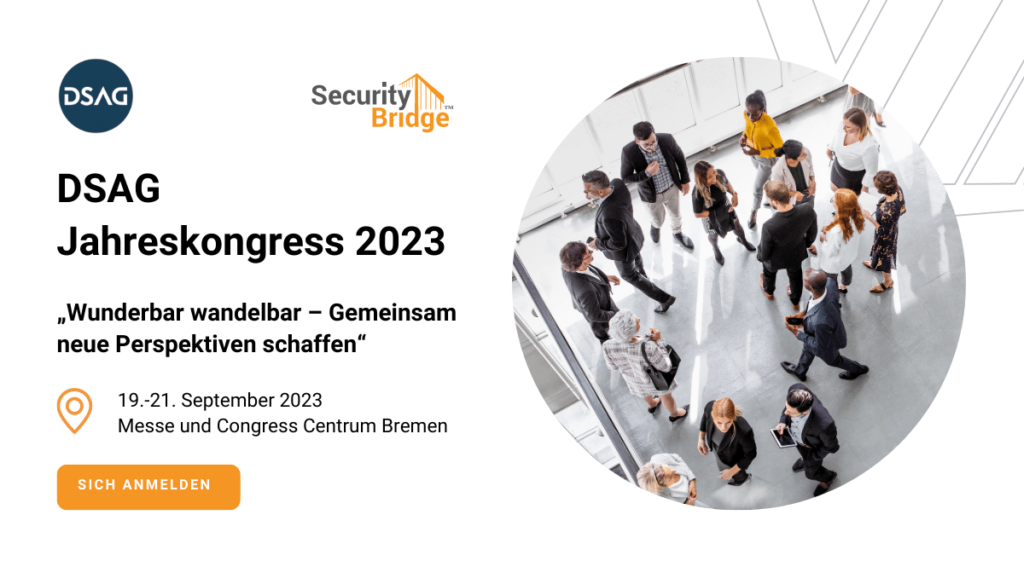 Alles verändert sich, nichts bleibt wie es ist, die heutige Zeit setzt Flexibilität voraus. Entsprechend wandelbar präsentieren sich DSAG, SAP und das gesamte Ökosystem. Diese Wandlungsfähigkeit steht auch im Fokus des DSAG-Jahreskongress 2023 vom 19.-21. September 2023 in Bremen. Unter dem Motto "Wunderbar wandelbar – Gemeinsam neue Perspektiven schaffen" freut sich die DSAG wieder darauf, mehr als 5.000 Teilnehmende zu begrüßen. Wagen Sie gemeinsam mit der Interessenvertretung den Blick durch das Kaleidoskop und finden Sie den richtigen Dreh, um zu neuen Blickwinkeln zu gelangen und Veränderungen zu gestalten.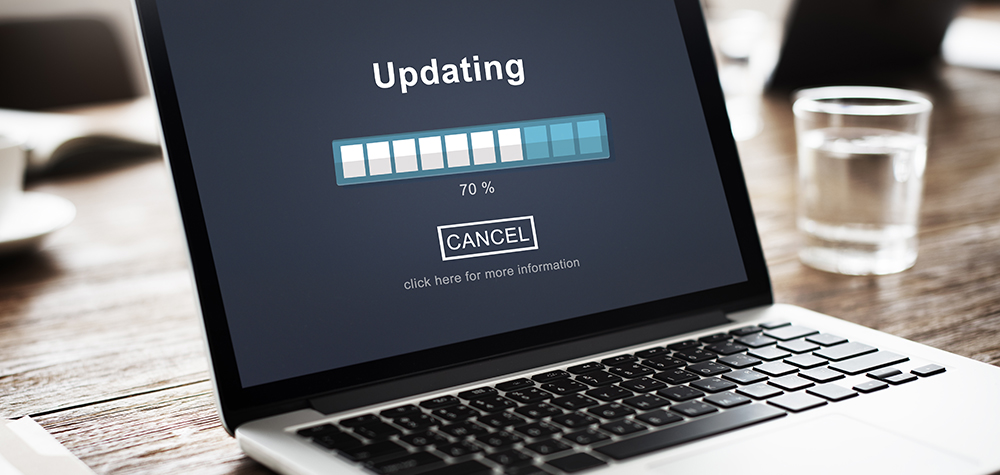 Today is another SAP Security Patch Day. In May 2023, the SAP Response Team released 20 SAP Security Notes, including Evergreen 2622660 Security updates for the browser control Google Chromium delivered with SAP Business Client with HotNews priority. Besides two updated Notes, SAP Security Patch Day May 2023, contains 18 new security updates for the vast SAP Product portfolio while the majority relates to SAP Business Objects.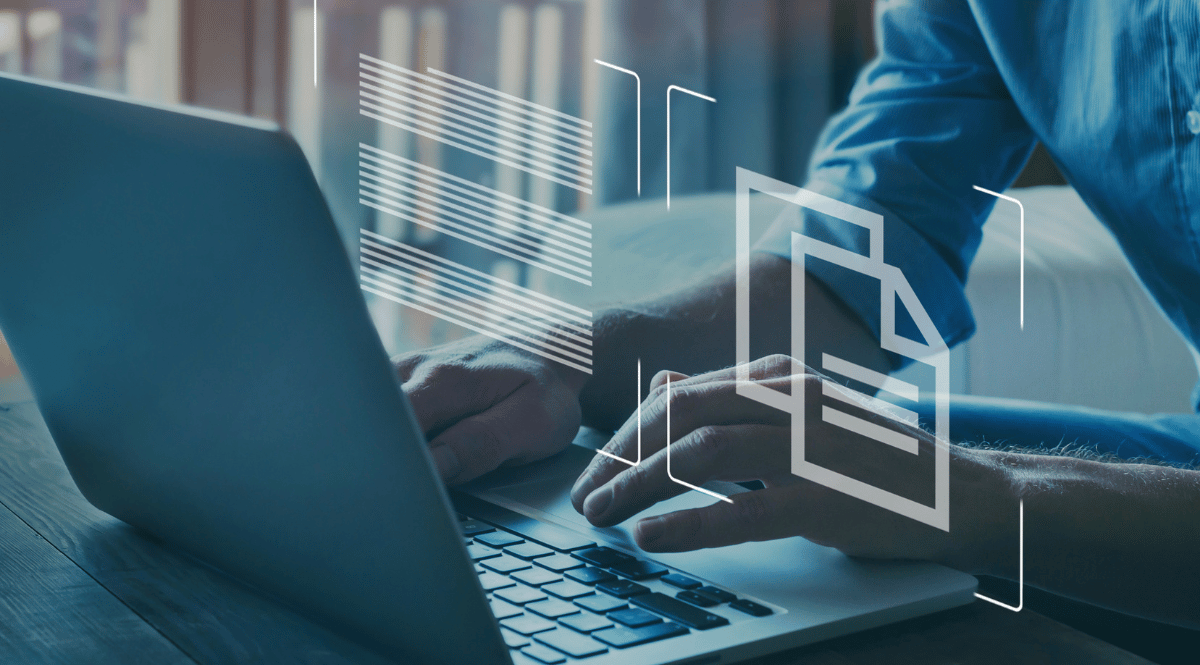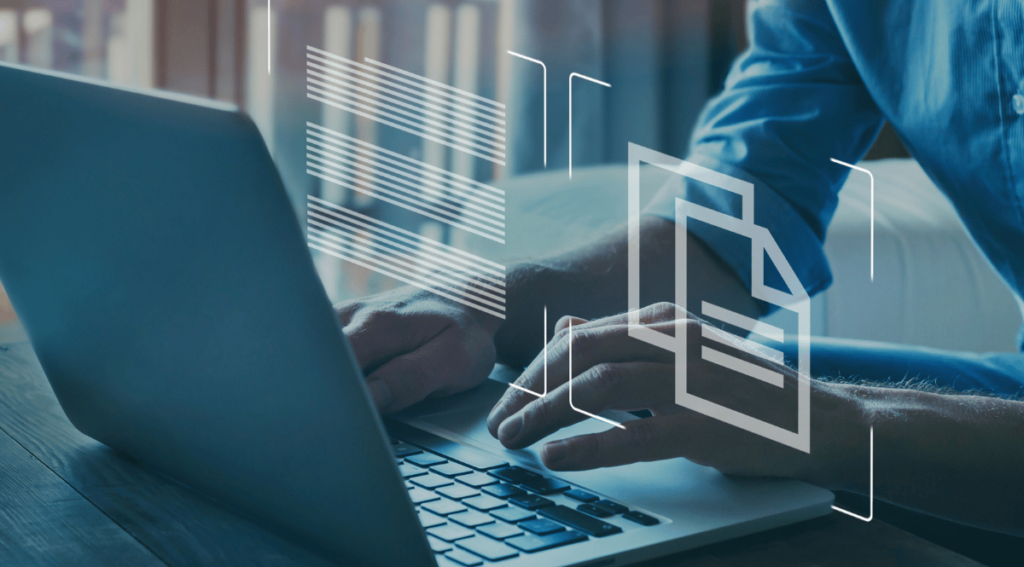 SAP developers know that ABAP/4 (Advanced Business Application Programming) is not immune to security vulnerabilities like any other programming language. One significant security risk associated with SAP ABAP is directory traversal vulnerability. In this blog post, we will discuss what a directory traversal vulnerability is, why it is a problem for SAP customers, how it can be exploited, and what measures to take to prevent it.