One-Stop Solution, for SAP© Security
Designed and built for security experts, SAP Security Dashboard combines all relevant controls where you need and expect them! From configuration to operation, all functions are just one-click away.
SAP Security Dashboard designed by SecurityBridge is an extensive collection of tools that support security operations and monitoring for SAP based systems. The suite is divided into Apps which are built for dedicated tasks. An Event Monitor App (SBM) provides access to a Work Center View and endpoint investigation features that makes it easy to follow the path of an attack. Security alerts can lead to security incidents. Within the Security Incident App (SBI), agents have a transparent view across all incidents. Incidents can be created to document and perform a detailed investigation, or to optimize configuration. Security incidents help to document the progress and the status of ongoing investigations, required configuration adjustments, code optimization and more. Manage earlier created incidents within the Security Incident App (SBI).
Installation, configuration and fine-tuning of the intrusion detection scanner can be orchestrated centrally from within the SecurityBridge Controller Cockpit (SBC).
The following section lists the highlights of each App and its Availability
Collect, monitor and triage all security relevant events across your entire SAP landscape.
Centralized monitoring, independent of your landscape size.
Follow the path of an attacker.
Visualize events originating from a terminal and/or account in a timeline view.
Raise security incidents directly from the event monitor.
Find additional information about an event, explaining the risk.
Work Center view showing the most recent events.
Statistics and Reporting section.
And more…
Configuration
Cockpit (SBC)
SecurityBridge includes a central cockpit for efficient, landscape-wide customizing.
Centrally monitor alerts across all systems.
Customize IDS across all agents from a single cockpit.
Add and remove agents.
Configure automated event actions.
Check the health-status for all agents.
Configure and monitor SAP-SIEM integration.
Launch and control the intrusion detection system.
And more…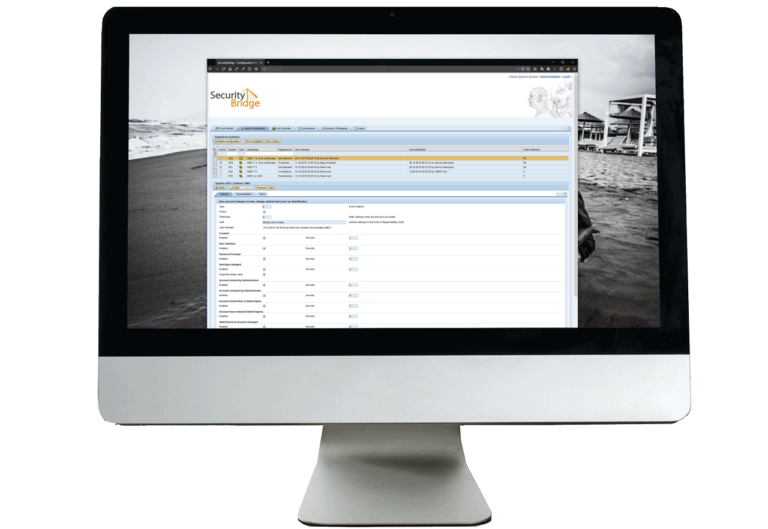 Security Incident
Management (SIM)
A Security Incident documents the progress and mitigation for one, or multiple, security alerts. Incidents can include data breach investigations, configurations deviating from your security baseline, mitigating insecure coding and fine-tuning of the SecurityBridge filter settings.
Find, track and manage incidents.
Add additional details and comments to document your forensics.
Involve different teams and stakeholders.
Utilize a standardized interface to integrate with ITSM tools.
And more…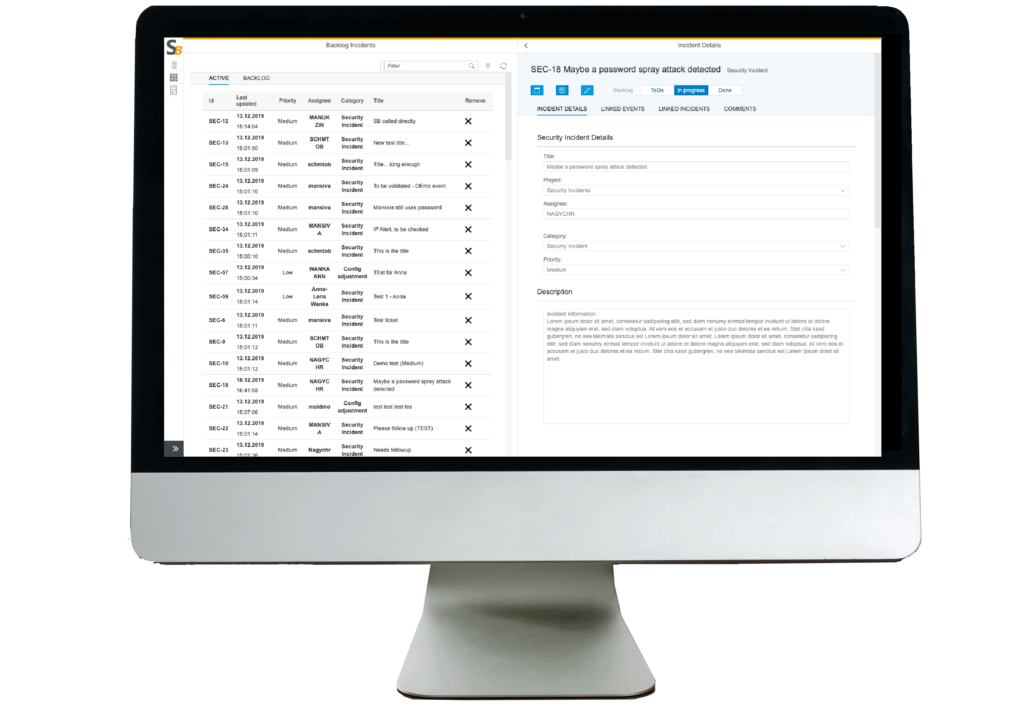 Security & Compliance
Monitor (SCM)
Staying compliant with internal and external policies has become a constant challenge for SAP systems. SecurityBridge delivers a Security & Compliance Monitor to help you stay on track.
Zoom in on your security posture, from landscape to system to single use case.
Visualise the attack surface.
Detailed information on the risk factor for each individual use case.
Configure compliance checks to alert of violations.
And more…