SAP Certified – SAP Vulnerability Management solution to continuously search for compliance violations, helps improve SAP cybersecurity posture
The SAP S/4 HANA Platform is an essential component for SAP implementations, used to process business-critical data and operations. Regular audits are performed to ensure security and compliance. The purpose of an audit is to ensure that Statutory Regulations such as PCI, SOX, FDA, GDPR are being adhered to and that the company's status with respect to compliance is of the highest standard. Any lapses in enforcing these regulations can lead to vulnerabilities that can be exploited by cybercriminals. Companies that are successfully breached risk significant penalties, even if their most recent audit does not show any major SAP vulnerabilities.
IT systems such as SAP are subject to frequent changes to their configurations. The creation or alteration of RFC connections or a minor adjustment to the profile parameter can lead to incompliancy. The SecurityBridge Platform automatically addresses this challenge. The Solution provides a Security & Compliance Monitor to automatically detect SAP vulnerabilities and enforce the settings and configurations that are needed to meet compliance requirements. Protect your company's most valuable data assets, by empowering the most advanced Vulnerability Management solution.
Central Security & Compliance monitoring
Segregation in Areas of Responsibility
360° View with real-time Events – The Who, What, When: changes
Preconfigured according to DSAG ( German SAP User Group ) Security Recommendations
Fully customizable framework
Guided mitigation of SAP vulnerabilities
Cover your statutory regulations (PCI, SOX, FDA, GDPR,..)
Embedded controls for NIST CSF
Security Roadmap for SAP – helps to prioritize the mitigation
SAP Vulnerability Management "in a nutshell"
The Security & Compliance monitor immediately identifies SAP vulnerabilities, signals which systems need attention, and for what reason.
Security & Compliance Tests
On a system level, the SAP security posture can be easily and effortlessly monitored. The application shows you, which areas are subject to SAP vulnerabilities and which you need to focus on. It makes use of the aesthetically superb-looking SAP Fiori, providing you with an immediate understanding as to the status of your SAP security posture.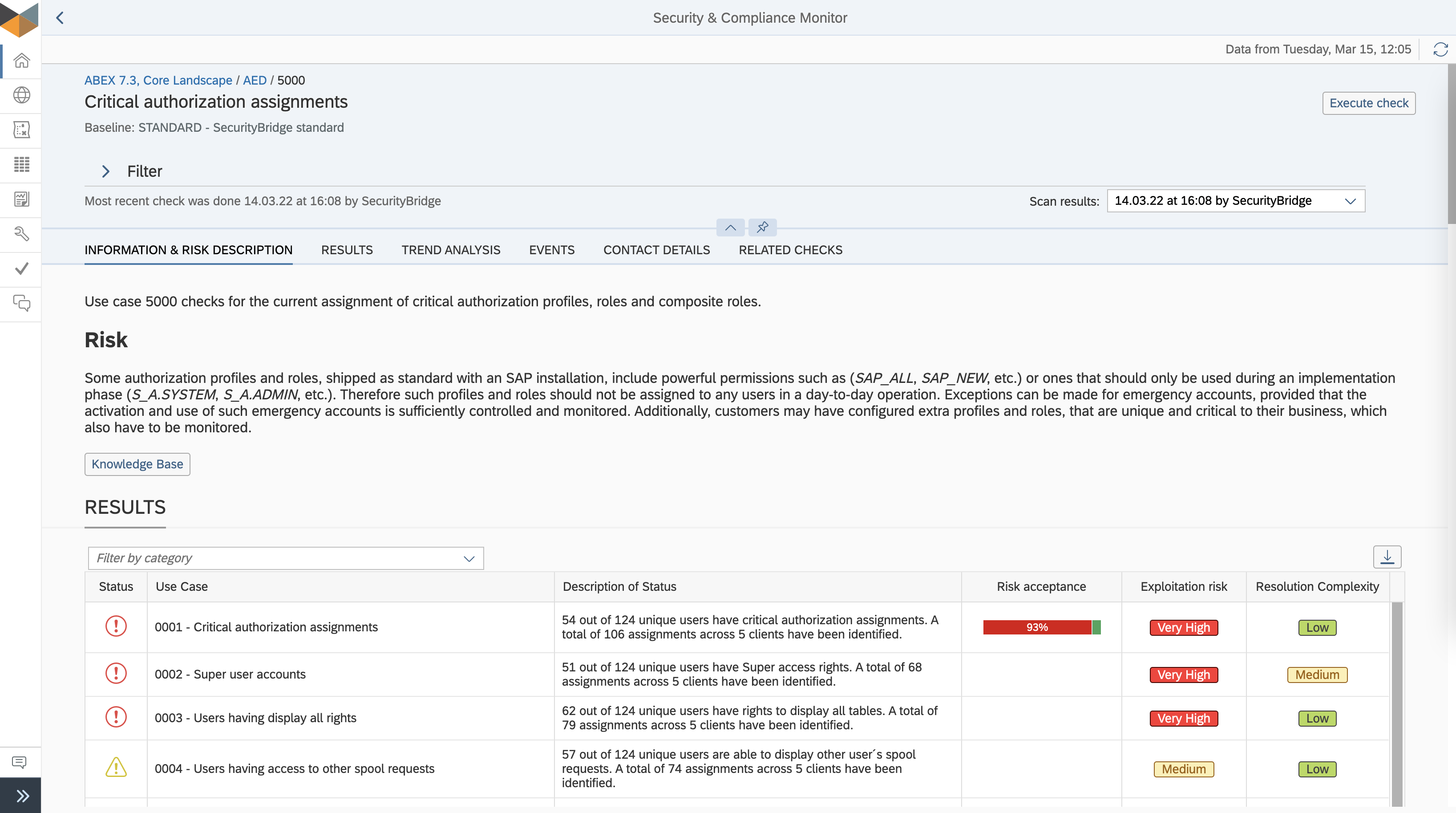 S&C Test on
Critical authorization assignments
Based on company policies this test checks whether a critical authorization has been assigned.
A list of test results provides an easy to understand overview.
Details are available for each test result.
Automated remediation or guidance to address the issues.
Show me how
S&C Test on
Security Audit Log Settings
Probably one of the most important log sources offered by SAP standard is the Security Audit Log (SAL). Unfortunately, the logging needs to be enabled by the users and attackers know how to deactivate the Audit Log. It is a significant and continuous effort for SAP customers to monitor the SAP Security Audit Log related profile parameters and the configuration and disk space usage. The SecurityBridge Monitor automates this process, removing a major task and headache for any security team.
Show me how
S&C Test on
RFC Security
SAP systems are interoperable and typically connected to other SAP and non-SAP systems to perform their business operations. Remote Function Calls (RFC) are used to execute function modules within the system. Cybercriminals have often used remote access attacks to extract or manipulate data, and as such a vulnerable configuration of RFC connections may pose a serious threat to your SAP environment.
We can automate this process and remove the vulnerabilities so you don't have to:
Find out how
S&C Test on
Message Server Security
As the central communication component in an SAP system network, the message server should be protected against inappropriate external access. System administrators should apply specific settings to increase security when the SAP message server is in operation.
Once the SAP MS has been hardened then the settings are continuously enforced.
Show me how
S&C Test on
Custom Code Quality
The technical foundation of SAP NetWeaver can be used as an application server and platform for custom application developments. Develop, provision, and manage your mission-critical applications across a heterogeneous software environment. This code, however, needs to be checked for vulnerabilities that can be manipulated, and for which there is no commercial patching available. SecurityBridge will automatically scan your code for vulnerabilities and non-compliance, so that lapses can be hardened accordingly.
Start monitoring custom code security today and request a demo or a free test installation.
Find out how
S&C Test on
Transport Control Security
With the introduction of GDPR, the need for end-to-end encryption became mandatory criteria for any system auditors' checklist. From RFC communication to SAP GUI Login, all data in transfer must be protected to prevent man-in-the-middle attacks or spoofing. SAP Administrators need to configure the instances accordingly, and SecurityBridge will identify and enable the appropriate settings to be enforced, ensuring compliance for a GDPR audit.
Show me how
I'm controlled by toggle. No JavaScript!
I'm controlled by toggle. No JavaScript!
I'm controlled by toggle. No JavaScript!
I'm controlled by toggle. No JavaScript!
I'm controlled by toggle. No JavaScript!
I'm controlled by toggle. No JavaScript!
I'm controlled by toggle. No JavaScript!
I'm controlled by toggle. No JavaScript!
The Security and Compliance check performed by SecurityBridge is complemented by security events that relate to the event itself, which may have impacted the check-status results. The SecurityBridge Threat Detection introduced sensors to SAP that listen for every action that impacts the security to provide actionable threat events. For example, if the system settings have been changed, it is essential to understand who in the organization has performed that change, and when. Most importantly it is vital to understand what the consequences of that change are on the SAP security posture. SecurityBridge provides a powerful yet simple, 360 view of change and consequence so that the security impact is obvious.
Request a Demo to see the solution in action.